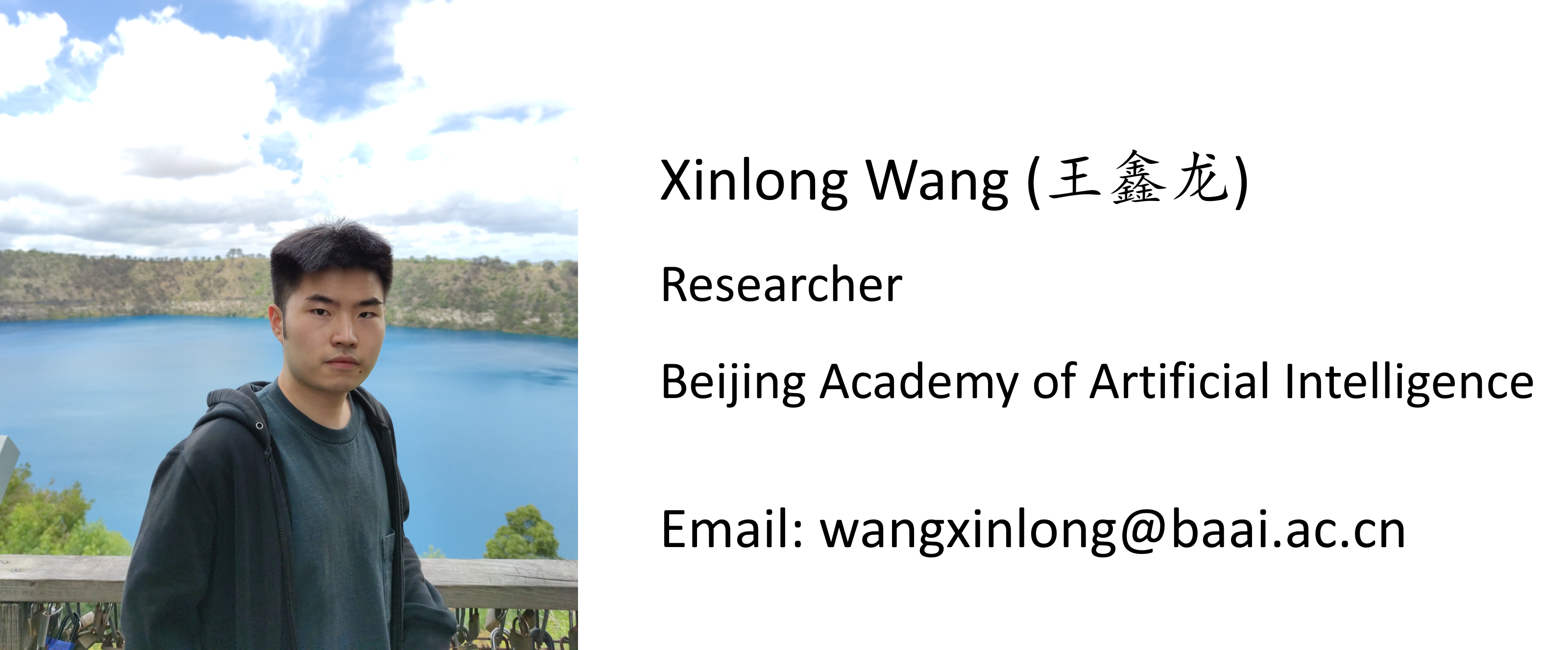 About Me
I am a researcher at Beijing Academy of Artificial Intelligence (BAAI). I received my PhD degree from The University of Adelaide, supervised by Prof. Chunhua Shen. Before that I obtained my Bachelor degree from Tongji University. I am a recipient of the Google PhD Fellowship in 2021.
My research interests lie in the area of computer vision and foundation models. I worked on visual perception (SOLO, SOLOv2, VisTR, BoxInst), visual representation (DenseCL, EVA), visual generalist (Painter, SegGPT), multimodal representation (EVA-CLIP) and multimodal generalist (Emu).
---
Contact
We are always looking for full-time researchers, engineers and interns at BAAI, feel free to shoot an email if interested!
我们有少量与北大/自动化所的联培博士生名额,欢迎联系!
Email: wangxinlong@baai.ac.cn
---
News
[Jul.2023] SegGPT is accepted by ICCV 2023.
[Jul.2023] We have released Emu, a multimodal generalist that can seamlessly generate images and texts in multimodal context.
[Feb.2023] Painter and EVA are accepted by CVPR 2023.
[Feb.2023] I am awarded a University Doctoral Research Medal (top 3% PhD graduates).
[Dec.2022] We have released Painter, a generalist model using "image" as the general-purpose interface.
[Nov.2022] We have released EVA, the best 1B Vision Foundation Model to date. All the code and models are available.
[Sept.2022] My PhD thesis is awarded the Dean's Commendation for Doctoral Thesis Excellence.
[Mar.2022] FreeSOLO is accepted by CVPR 2022.
[Sept.2021] I am awarded Google PhD Fellowship 2021.
[Aug.2021] Extension of SOLO series is accepted by TPAMI, with improved methods and more applications.

---
Recent Publications
---
---
---
---
First-author Publications
---
---
Dense Contrastive Learning for Self-Supervised Visual Pre-Training
Xinlong Wang, Rufeng Zhang, Chunhua Shen, Tao Kong, Lei Li
IEEE Conference on Computer Vision and Pattern Recognition (CVPR), 2021
Oral (4.3% acceptance rate)
[arXiv] [bibtex] [code][usage@adet]
---
---
---
---
---
---
Co-author Publications
---
Poseur: Direct human pose regression with transformers
Weian Mao, Yongtao Ge, Chunhua Shen, Zhi Tian, Xinlong Wang, Zhibin Wang, Anton van den Hengel
European Conference on Computer Vision (ECCV), 2022
[arXiv]
---
---
---
FCPose: Fully Convolutional Multi-Person Pose Estimation with Dynamic Instance-Aware Convolutions
Weian Mao, Zhi Tian, Xinlong Wang, Chunhua Shen
IEEE Conference on Computer Vision and Pattern Recognition (CVPR), 2021
[arXiv]
---
Diverse Knowledge Distillation for End-to-End Person Search
Xinyu Zhang, Xinlong Wang, Jia-Wang Bian, Chunhua Shen, Mingyu You
AAAI Conference on Artificial Intelligence (AAAI), 2021
[arXiv]
---
Instance-Aware Embedding for Point Cloud Instance Segmentation
Tong He, Yifan liu, Chunhua Shen, Xinlong Wang, Changming Sun
European Conference on Computer Vision (ECCV), 2020
[Paper]
---
Professional Activities
Journal Reviewer
IEEE Transactions on Pattern Analysis and Machine Intelligence, IEEE Transactions on Image Processing, IEEE Transactions on Multimedia, IEEE Transactions on Robotics, Neurocomputing, Pattern Recognition, Transactions on Machine Learning Research

Conference Reviewer
ICLR 2023, NeurIPS 2022, ICML 2022, ECCV 2022, CVPR 2022, AAAI 2022, ICLR 2021, NeurIPS 2021, ICCV 2021, ICML 2021, CVPR 2021, AAAI 2021, NeurIPS 2020, AAAI 2020